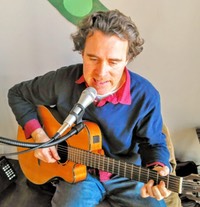 As a solo guitarist, Brian performs a combination of contemporary, classical and jazz music on the acoustic or electric guitar. He is available for weddings, church services, musicals, corporate functions, and other special events.

Brian also provides vocals and guitar for birthday parties, dining entertainment, outdoor celebrations, summer camps, farmers markets and other locales.
Click on the SOUND CLIPS below to listen:
Popular/Classical/Jazz
Cancion de Cuna - Leo Brouwer
Capricho Arabe - Francisco Tarrega
Cheek to Cheek - Irving Berlin
Do You Remember - Jack Johnson
Golden Lady (vocals) - Stevie Wonder
Hallelujah - Cohen/Buckley
Harvest Moon - Neil Young
Have You Ever Seen the Rain (video w/ vocals) - CCR
I'm Yours - Jason Mraz
Let My Love Open the Door (vocals) - Townshend
No Woman No Cry - Bob Marley
Something - The Beatles
Take Five - Dave Brubeck
Tango - Isaac Albeniz
The Girl from Ipanema - Jobim
Wild World (vocals) - Cat Stevens
Click below for a REPERTOIRE LIST:
Guitar Only
Guitar and Vocals

CUSTOMIZE your special event music. Download the repertoire lists above or choose below by STYLE and then check off the songs or pieces you would like performed:
Children's
Church Services/Gospel
Classical
Country
Folk/Folk Rock
Holiday
Jazz
R&B/Soul/Blues/Reggae
Rock

Read some TESTIMONIALS:
"Brian Callaghan was wonderful at the event, performed amazingly. The crowd loved him and I was so thankful I contacted him. He had the crowd singing along and clapping the whole time. After the show everyone wanted to know who he was and where they could see him again!! So if your looking for someone who is a great guitarist, a professional, and also a fun guy who have people wanting more, then look no further, cause you already found him." - Louis P.

"Brian was perfect for the birthday party for my husband. He was a great performer, and we enjoyed listening to him. He was prompt, courteous, flexible, and very accommodating. He was really a pleasure to work with." - Jackie N. 

"Brian was AMAZING!! He went the extra mile to make sure that everything was exactly how we wanted it to be. He is really talent! I would recommend that you hire him for any event. He is a pure pleasure to work with. Thank you so much for all that you did! You made our special day even more special!" - Liz B.

"Brian was great! He is a talented musician and vocalist. Everyone was so pleased!" - Sara E.

"Brian played 2 songs and some interludes at the celebration of life for my mother. Even though it was a somewhat somber occasion, Brian's music and singing were anything but sad. For me and my family, Brian's music allowed us a chance to smile and be in the moment. I really appreciate live music, and I would recommend Brian for any event. I would, without hesitation, hire Brian again in the future." - Jon C. 

"Brian was just perfect! He communicated with me several times prior to the event, making sure he had songs we would like; whether it was vocal and/or guitar alone etc. I will keep Brian in mind for any other event we have and certainly recommend him to friends." - Cynthia M.

"Brian did an amazing job! He was so easy to work with and easy to contact with questions or concerns. Everyone at the party enjoyed his music and I would hire him again in the future!" - Doug M.

"Brian came to perform for our local summer camp and it was great to have him there! The campers enjoyed the music, especially because he played songs that they are familiar with." - Amelia M.

"Brian was wonderful! I would highly recommend him for any occasion. He plays a variety of music, which is really nice." - Helen M.

"Brian has performed at our tea for 3 years now. He has been wonderful to work with. He arrives with plenty of time to set up and plays beautifully. I highly recommend his services." - Sandra G.

"I asked Brian to perform at my friend's office for a milestone birthday on St. Patrick's Day. He was very accommodating and worked with my friend's assistant to make sure the event was a surprise since I was not able to be there in person. Brian was very reasonably priced and he was a big hit at the office. He sang an Irish song and the happy birthday song to my friend." - Louise P.

"Brian did an excellent job for us. He was very professional, came early stayed late. Was a great musician and a very nice voice." - Michael H.

"Brian is a very talented guitar musician that was prompt, courteous and flexible."  - Katey D.
The above testimonials were reprinted from Brian's storefront pages on www.WeddingWire.com, www.GigSalad.com, and www.GigMasters.com. You can also view his listings on TheKnot.com and www.decidio.com.